Karibu!
Welcome to Kenya, welcome to Nairobi and its informal settlements, and welcome to my blog! Over the next weeks, I will be providing an insight into topics around Urban Political Ecology (UPE) in Nairobi's informal settlements. I have chosen to write about Nairobi's informal settlements out of personal and academic reasons. When conducting my dissertation research on menstrual health in Nairobi's informal settlements over six weeks in 2019, I have experienced that the citizens of informal settlements in Nairobi bear the brunt of environmental hazards surrounding water, air, waste, health, and housing. This has shocked and fascinated me equally.
From the academic perspective, Nairobi provides an exciting location as scholarship on UPE has focused on cities in Euro-America and Latin America. UPE studies on Africa have focused on rural areas' natural resources and wildlife, thereby neglecting urban African regions. My focus on urban and informal Nairobi hence contributes to opening up new debates around UPE topics within urban geography.
Unequal City, Unequal Resources
I focus my blog entries on informal settlements with them being particularly vulnerable to environmental injustices. Inequalities in Nairobi's socio-spatial structure, access to resources, and environmental hazards are amongst others legacies of Nairobi's colonial past. In 1923, segregation through sanitary regulation and the use of strict building codes took place in Nairobi. Africans had minimal housing and services, with only 1-2% of the city's revenue being intended for services serving Africans. After independence, the city moved from race-based segregation under colonial rule into residential zones split into class and within a class, into ethnicity. Accordingly, the 'unserved' African settlements turned into living areas for migrants and the poor. Nairobi became a fully segregated city with one part being fully serviced residential areas and the other part constituting left-behind, informal and unplanned settlements. Nowadays, there are more than 150 informal settlements in Nairobi hosting 60-70% of Nairobi's population, however, occupying only less than 5% of the city's land area (Dianati et al., 2019). Below, you can see a map showing the locations of informal settlements in Nairobi.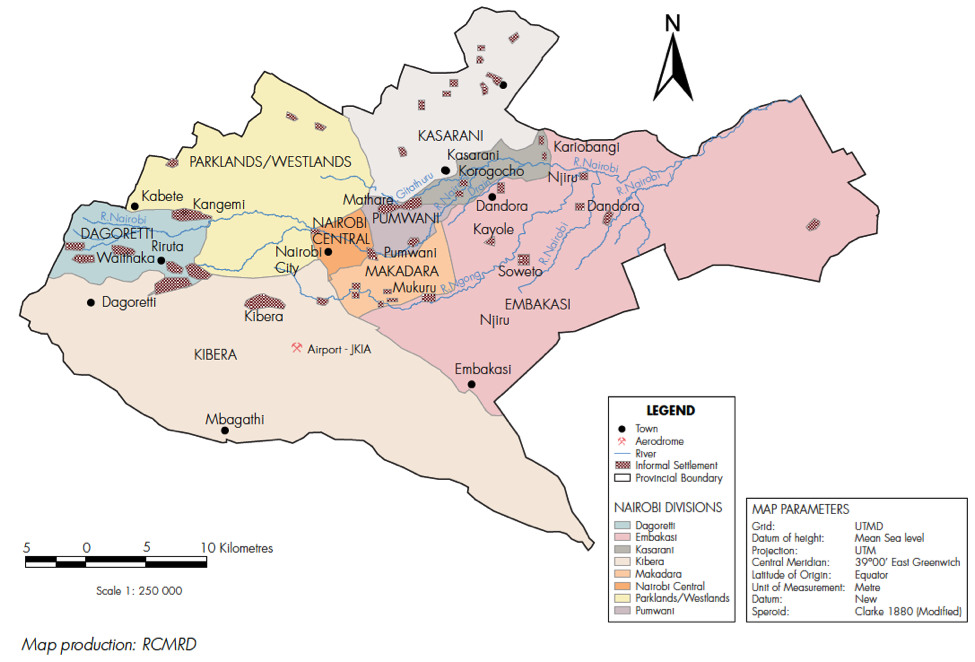 The legacies of colonial land segregation are seen in the limited access to resources and services people face in Nairobi's informal settlements, many of which I will explore in the coming weeks! Have a look at the video below to get an impression of how life in Nairobi's informal settlements looks like. See you soon – Kwaheri!
401 words
LITERAL REFERENCES
Dianati, K., Zimmermann, N., Milner, J., Muindi, K., Ezeh, A., Chege, M., … & Davies, M. (2019). Household air pollution in Nairobi's slums: A long-term policy evaluation using participatory system dynamics. Science of the Total Environment, 660, 1108-1134.
VISUAL REFERENCES
Featured image: Route to food (2018). Nairobi's informal settlements from above. Retrieved from https://routetofood.org/food-justice-in-urban-informal-settlements/
United Nations Environmental Programme (2009). Nairobi's informal settlements. Retrieved from https://www.uncclearn.org/sites/default/files/inventory/unep23.pdf